SPFL to rule on Motherwell crowd disorder at board meeting on June 15
The league have received the match delegate's report but remain unlikely to impose sanctions.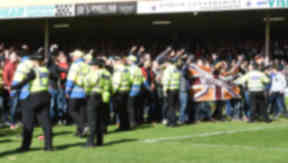 The board of the Scottish Professional Football League will consider later in June what action to take over crowd disorder involving Motherwell fans after their Premiership Play-off final win over Rangers.
A section of the 'Well support took to the park and congregated in front of the away support, with police and stewards forming a barrier between the two groups. A flare was also thrown from the home end, damaging the pitch.
STV understands the league have received the delegate's report into the incidents and are now reviewing its contents.
A board meeting will subsequently take place on Monday, June 15 at which the matter will be discussed.
An announcement will then follow on what action, if any, will be taken.
The SPFL are typically reluctant to apply sanctions upon clubs whose fans are believed to have committed what is known by league rules as "unacceptable conduct".
Instead of applying a blanket rule which sees teams adopt strict liability for the actions of its supporters, onus is instead placed on upon them to "ensure, so far as is reasonably practicable, that its supporters do not engage in unacceptable conduct".
The SPFL considers whether any club accused of breaching the rule took the necessary steps to try and prevent such behaviour. If it is determined they did, action is unlikely to be taken.
Guidance is issued to SPFL clubs outlining what steps they should take to try and act in a pre-emptive manner towards any unacceptable conduct.
Amongst the 21 points covered include taking "all reasonably practicable steps, including in consultation with local police, to identify those who engage in unacceptable conduct" and applying "a proportionate sanction against a supporter who engages in unacceptable conduct and who has been, or is reasonably capable of being identified".
Shame game
On Tuesday, the Scottish FA took action against three players involved in a post-match brawl.
Former Rangers defender Bilel Mohsni was issued with a notice of complaint for excessive misconduct, which could see him given an indefinite ban.
The Tunisian international is already due to serve a four-game suspension after being sent off. Whether any ban will be served will come down to the decision of the football association in the next country he moves to.
Motherwell pair Lionel Ainsworth and Craig Moore also admitted hitting Mohsni in the back of the head. They will be banned for their side's next two matches, along with Fraser Kerr, who was also sent off after the final whistle.