Jags defender: We're here for Mathias Pogba, this is a time for unity
The Partick Thistle striker was in the Stade de France during Friday's attacks on Paris.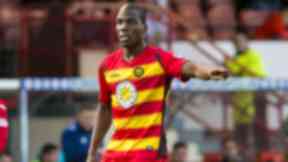 Dan Seaborne has offered his support to Partick Thistle team-mate Mathias Pogba after the striker was caught up in Friday's Paris attacks, saying this is a time for unity.

The Jags striker was at the Stade de France to watch his brother Paul play in the international friendly against Germany when the stadium was targeted.
He returned to training with the Thistle squad on Tuesday as the struggling Premiership outfit prepare for Saturday's visit of Inverness Caledonian Thistle.
Defender Seaborne, who was promoting the Jags' Super Saturday deal which allows students into the weekend fixture for free, told STV Sport the players are there for Pogba if he needs to talk about his experience.
"It's not a nice situation but it's good for him to be home safe and sound," he said. "It's really difficult [to imagine what he went through], we're here and he was over there and it's not very nice.

"But a lot of people have been affected by all the other bombings as well so it's a time to reflect on things. We're safe at the moment but it's not a nice situation for the people in Paris and the other places.
"It's a big thing for people to stick together and we'll obvious stick by Pogs and have a chat about everything that went on. The lads are really close, if he wants to chat to anyone I'm sure he'll come to us and talk about it."
Three suicide bombers targeted the ground on Friday evening but did not make it inside where almost 80,000 spectators were watching the match.
Seaborne understands if Pogba isn't mentally prepared for the weekend's return to domestic business but says the striker wasn't acting out of character in training.
"If it's not right for him to play then the manager will take him out and let him have time with his family, he's like that," the defender added. "But he seemed fine. He trained lively today, he was the normal Pogs so it was good."