Turnbull Hutton warns SFL must 'get a grip' to save reconstruction plans
Raith Rovers chairman fears late changes to the proposal could scupper chance for change.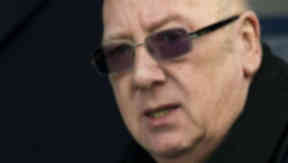 Raith Rovers chairman Turnbull Hutton has warned that league reconstruction could be "blown out of the water" by 11th hour tinkering to the proposals.
The Starks Park chief spoke after a meeting of the Scottish Football League on Tuesday introduced a plan to have two leagues of ten at the foot of the new football structure, as opposed to one league of 18.
That would create two spaces in the set-up which could be filled by 'Colt' teams from Celtic and Rangers, as revealed in a document sent to SFL clubs.
However Hutton believes such changes so late in discussions threaten to de-rail the entire process – which is expected to deliver better funding to lower league teams and create a unified governing body if voted through.
The Raith chairman said now was not a time for a "pick and mix" approach from the SFL.
He said: "The 12-12-18 proposal is a significant step forward. That is what we should be talking about – not all this other Woolworths Pick and Mix stuff.
"There are discussions and agendas being set up and people are unaware of it. I don't know what they are because I'm not party to them but it is obvious there are discussions going on on the periphery of this.
"We need to get a grip or we will blow the whole thing out of the water. We should embrace what is on offer and get on with it.
"There's a whole raft of things we can talk about after we become one governing body."
Speaking to STV on Wednesday, SFL chief executive David Longmuir said his decision to bring the colts proposal back to the table was solely for the purpose of ensuring all ideas were discussed.
"My view is an objective one and the Colts team idea was laid out in the Mcleish Review," he said.
"All I am trying to do here is stimulate debate. We are going through a huge round of deliberation. All I am doing is putting another option forward.
"We have to be very clear on what's right for the SFL and also for the whole of the Scottish game.
"I have to look at how we bring the fans back. With that, I am looking at all aspects of improving our game."