Livingston have acted 'outside of the rules' over Calum Elliot, claim Raith
The former Hearts striker has signed a contract with both clubs for the 2013/14 season.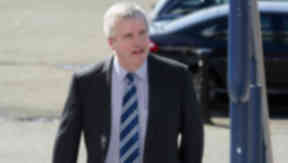 Raith Rovers believe Livingston have acted "outside of the rules" as the two clubs dispute the signing of Calum Elliot.
The former Hearts striker was announced as a new player of the First Division club on Tuesday, despite Livingston also claiming they had his signature for him to join them.
Livi have called on Raith to "act honourably" over the situation, having agreed terms with Elliot back on April 26.
However Rovers' chief executive Eric Drysdale believes the Scottish Football League and Scottish FA would find in his club's favour if an official dispute was to arise.
"It's not for me to comment on what Livingston have done and how they have acted in this respect," he told STV.
"I'm not making any allegations, I'm simply confident of our position that we signed him at the appropriate time.
"Livingston have admitted and accepted any contract they completed with Calum was done six weeks ago. That's outside of the rules.
"I'm very confident he will be in a Raith Rovers shirt."
In response, Livingston's chief executive Ged Nixon told STV: "If that is the case, no player could be signed 14 days prior to the window being open.
"If that is indeed the case and those are the rules, no player signed before May 26 has got a bona fide contract and that means pre-contracts can't be agreed."
The registration period opens on Sunday, June 9 and both clubs believe they are entitled to claim Elliot as theirs.
Should that happen, the SFL board would be able to rule which team the player should play for. They can also cancel both registrations.
"As far as I am concerned Raith are perfectly entitled to register Calum as our player," Drysdale added.
"He was confirmed to me as a free agent by the SFL and SFA when he was released by Alloa Athletic.
"We signed him shortly thereafter. Contractually I believe there is no issue.
"If Livingston were to register their interest in the player then the SFL and SFA would have to look into it and examine both club's entitlement.
"I'm confident if that were to happen, they would find we have acted within the rules and the spirit of the rules."
Nixon said in response: "I have spoken to Eric and said to him that, in our opinion, the honourable thing to do would be to stand aside and allow us to register the player as he signed a contract with us first."