Maurice Edu: 'I did the right thing sticking by Rangers for sake of club'
The midfielder wants an end to uncertainty having taken a pay cut back in March this year.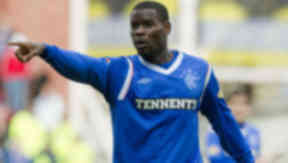 Maurice Edu says fears over what would happen to Rangers had he chosen to walk away from the club made him stay in Glasgow until the end of the season.
The American midfielder, along with his team-mates, agreed to take a significant pay cut in March to save jobs at Ibrox.
Edu had the option to simply walk out and resume his career elsewhere but says he believed he was doing the right thing by sticking by the club which took him to Europe from Toronto FC in 2008.
"Yeah, that was an option," Edu told MLSSoccer.com. "But I thought that sticking by the club and staying there and playing out the season was the right thing to do. So that's the choice I made.
"It's hard to walk away from because you imagine what would have happened if we all just decided that we all just walk away. What happens to the club? What happens to the team?
"As a team, as a club we all tried to really stick together, support one another."
The long-term future of Rangers remains uncertain, as the club's prospective buyers look to secure a deal with creditors to ensure its survival.
Edu negotiated a release clause from his contract should matters not improve in the coming months and can leave for £300,000, £2.3m less than the outlay Rangers made to take him to the Scottish Premier League.
"Sooner rather than later is obviously an ideal situation," Edu said on finding out what will happen next. "Just because you can just relax a little bit more and you know where your future lies.
"You know what you're doing. There's not that uncertainty floating around. But I haven't really been thinking too much about it."