SPL clubs react to news that Rangers will be liquidated
Motherwell and Inverness issue statements regarding liquidation of Rangers FC.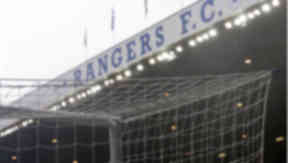 The Scottish Premier League clubs who hold the future of a 'newco' Rangers in their hands are starting the process of consulting fans on their intentions.
Clubs will have to vote on whether to admit a 'newco' Rangers after the Glasgow club began preparing for liquidation under the weight of enormous debts.
Motherwell were the first club to react to the news that Rangers had failed to agree a CVA out of administration.
The Lanarkshire club said it would canvass supporters and stakeholders in the club before coming to a decision on how to treat a 'newco' Rangers and its attempts to enter the SPL.
A spokesman for the board at Motherwell FC said: "The Board is very aware of implications of all scenarios and will consider them in detail when all the information we need is at our disposal.
"We regard the sustainability of the club and the integrity of the sport as inter-linked. We have a duty to act in the interests of our club and we hope these can be reconciled with the interests of the game.
"It really is more important than ever that all Motherwell fans continue their fantastic support of our club."
Inverness Caledonian Thistle chairman Kenny Cameron said it was a pity that Rangers had come to the situation of being liquidated.
Cameron said his club will now consult with as a board, then with the fans, before opening dialogue with the SPL.
He said: "At our last [SPL] meeting we were virtually assured by the administrators that liquidation was not on their radar following discussions with the leading creditors, but as we now know this was not the case.
"This is not a time for snap judgments or rushed quotes on the issue. We will consider our position and listen to our supporters once the picture becomes clearer."
Cameron also hit out at reports suggesting that Inverness' stance on the Rangers newco question could be forecast.
He added: "Any speculation by certain parties as to how ICTFC may or may not vote on a newco is purely that, speculation and we find it strange that some seem to know how ICTFC would vote under certain circumstances, they must have a crystal ball."
Supporters of a number of SPL teams have lobbied their clubs to state their intentions when it comes to a vote on 'newco' Rangers. A vote of eight to four by the SPL members is required to approve immediate entry to the country's top league.