Davis and McGregor become latest Rangers players to refuse newco switch
The pair join six others in turning down employment with Charles Green's Sevco 5088 company.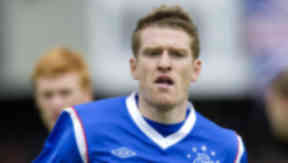 Steven Davis and Allan McGregor are the latest players to decide against making the move from Rangers to Charles Green's new company.
The pair join Steven Naismith, Steven Whittaker, Jamie Ness, Sone Aluko, Rhys McCabe and Kyle Lafferty in seeking to terminate their contracts and sign for a different club on a free transfer.
Only Lee McCulloch and Lee Wallace have so far declared their intention to stay with the club and report to pre-season training on Thursday.
Bridge Litigation confirmed that letters of objection had been sent to the club along with requests to the SFA to release the players' registrations.
A statement read: "Bridge Litigation UK have shared with the players the contents of legal guidance issued by the SFA last week on the issue of TUPE and player registration and which they state supports their legal view that an objection under TUPE amounts to a lawful termination of contract giving the club no entitlement to a claim for compensation."
Lawyer Margaret Gribbon added: "This has been an extremely difficult period for all the players and in the end their decisions were influenced largely by footballing considerations.
"SPL football appears highly unlikely and even First Division football cannot be guaranteed in light of comments made today by two First Division clubs.
"The players' commitment and loyalty to oldco Rangers cannot be questioned; they voluntarily took significant wage cuts in a genuine act of solidarity which ensured that none of the playing squad or club staff would lose their jobs.
"But for their contribution, it's likely that the club would not have survived until the end of the season.
"As professional footballers, the players' careers are relatively short-lived and they are entitled to exercise basic employment rights the law affords to all employees in this country under the TUPE Regulations.
"I now expect the SFA and FIFA to interpret their rules and regulations in accordance with the TUPE legislation so that the players' registrations can be released without delay."
Green, who argued TUPE regulations favoured his business retaining the players rather than losing them, and said any club which attempted to sign those who have decided to depart would also face action.
"I can assure those players and clubs who may be interested in signing them that Rangers will seek damages for breach of contract and for inducement to break contracts," he said.
"We have no wish to go to court on these matters but the players involved, their agents and clubs who may be pursuing these players should be in no doubt that we will do whatever it takes to protect the club's interests."
Although employment law is clear on the players' rights to walk away, it remains to be seen whether their registrations with the Scottish FA and FIFA will instantly become available for another club to acquire.
A test case at the world governing body's Dispute Resolution Chamber may be required to set a precedent, should Green object to any club attempting to register a former Rangers player.
If players are viewed by FIFA and the Scottish FA as simply being out of contract, they would be free under the Bosman ruling to seek employment elsewhere.
Businessman Green is bidding to field a team under the Rangers banner in the 2012/13 season, having bought the assets of The Rangers Football Club plc for £5.5m after a CVA proposal was recently rejected by creditors.
Membership of a league is required first and the new company's attempt to have Rangers' share in the Scottish Premier League transferred to them is set to fail, with six clubs having stated publicly they will vote against the plans.
A majority of 8-4 is required for any transfer to take place when a ballot is held on July 4.
Green's remaining option to field a team playing professional football in Scotland is to apply to the Scottish Football League for a place in their setup, with a view to starting in the Third Division.