Steven Davis says career comes first after refusing 'Rangers newco' move
Ibrox captain says he hopes fans understand his reasons for not moving to Charles Green's company.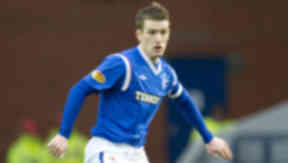 Steven Davis has asked Rangers fans to understand his reasons for refusing to stay with the club as part of Charles Green's new company.
The club captain is one of eight players to date who have objected to their contracts being transferred over to Sevco 5088, which owns the assets of the old business and is bidding to play as Rangers next season.
With the Scottish FA yet to rule on the transfer of membership, and with the Scottish Premier League closing its doors on any new club, Davis and his team-mates have chosen to exercise their right under TUPE regulations to leave.
"I have never been one to shout my mouth off," Davis is quoted as saying in the Daily Record. "Only those who know me will know how much Rangers mean to me.
"I felt it was only right to give the fans an explanation of how I've agonised so much over this decision.
"I signed a new contract last year, giving my best years to the club in the knowledge we'd be challenging for leagues and cups and in Europe year after year. That's the reason I came to Rangers.
"My young family love life in Scotland but after all that's gone on since administration in February there came a point when I needed to make a decision based on what was best for my short career.
"I am 27 and need to be playing at the highest possible level. I have had a great relationship with everyone at the club, from the fans to management right through to the tea ladies, since the day I walked through the door at Murray Park.
"Hopefully, I've repaid everyone by playing my part in teams that have won eight trophies and reached a European final in my four-and-a-half years."
Davis moved to Rangers from Fulham, initially joining on loan in 2008 before making the switch permanent shortly after.
The Northern Ireland international went on to play 183 times for the Ibrox club, scoring 21 times and winning eight trophies.