Charles Green describes Rangers contract objections as 'opportunism'
The Sevco 5088 chief executive says players missed their chance to object under TUPE regulations.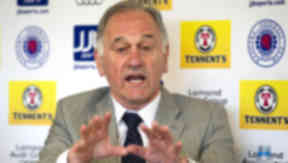 Charles Green has vowed to fight back against the eight players who have refused to continue their contracts with Rangers as part of his newly formed company.
Steven Davis, Allan McGregor, Steven Naismith, Steven Whittaker, Sone Aluko, Rhys McCabe and Jamie Ness have all stated their intention to use their right under employment law to terminate their deals.
Green maintains those who have objected are not legally entitled to terminate their contracts at this stage as per TUPE regulations and says he will take action against what he describes as "opportunism".
"I'm very disappointed, of course, particularly so late in the proceedings," Green told Sky Sports.
"It's clear the regulations behind TUPE are if someone has an objection, they have to notify within 24 hours. This is almost two weeks after the day.
"I think this is just opportunism. I'll definitely challenge it."
Reports on Wednesday morning state Green inherited the contracts on June 14 but the departing Whittaker insists he and other players had no notification at that time.
"The only time we saw Charles [Green] was after the last game of the season," he said on Sunday.
"The lack of contact has frustrated a lot of the players. It would have been nice to be kept up to date and get feedback.
"I've had one email last week and that's the only contact I have had with the club throughout this hard time."