In full: Document sent to SFL clubs to put Rangers into the First Division
A presentation was sent to the 30 members of the Scottish Football League on Thursday.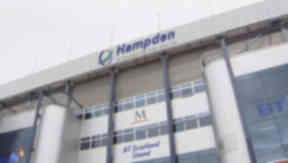 The 30 clubs in the Scottish Football League received a proposal on Thursday outlining proposals for league reconstruction.
The presentation was sent by the SFL to its clubs, following talks between the league, the Scottish Premier League and the Scottish Football Association.
They include allowing Rangers to play in the First Division. The SPL has warned that if these are not voted through by the SFL clubs in the coming weeks, they will create a breakaway SPL2.
The document has been seen by STV and has been reproduced in full below.
The proposal to SFL clubs, titled "Your Game, Your Club, Your Future
WHY DOES RESISTANCE TO CHANGE IN FOOTBALL EXIST?
•Fear of the unknown
•Lack of involvement
•Lack of information
•Threat to power, or status
•No perceived benefits
•Fear of failure
•Unless behaviour changes, nothing changes
UNDERSTANDING RESISTANCE TO CHANGE
•Perceptions of being "worse off"
•If the reasons for change are not clear
•If implementation plans are not clear
•If there is no clear "link" with your own objectives
•If a change is seen as a threat to your long term security or well being
WE THEREFORE NEED SOME CLEAR COMMUNICATION PRIORITIES FOR THE SFL
•Logical and positive communication to eliminate doubt, threat and insecurity
•Fully explained in terms of short and long term benefits to you and the organisation
•Not left to the last minute
•Involving you at an early stage
•And seen in the context of a wider strategic plan
CURRENT REALITY
•Rangers have no where to go
•SPL Clubs have indicated their voting intentions
•SFA wish to see a solution in the interests of the game
•Moral/sporting question vs financial collapse
•Are The SFL are in a position to accommodate a solution?
WE HAVE CONSIDERED FIVE SCENARIOS
1.Rangers stay in SPL
2.Rangers to Third Division
3.Rangers to First Division
4.Rangers to SPL2
5.Rangers terminated or suspended
1. RANGERS STAY IN SPL
•Not an option
•SPL clubs have indicated no
2. RANGERS TO THIRD DIVISION
•Takes approximately £16 million out of the game
•Commercial partners walk away and seek compensation
•The settlement agreement becomes a major risk
•The sporting opportunity is quashed for other clubs
3. RANGERS TO FIRST DIVISION
•Reduces SPL income by approximately 30%
•Balances short term need for redemption with a least worst case financial scenario
•It is financially possible to recover from this scenario
4. RANGERS TO SPL2
•Currently not supported by the SFA
•Creates a bigger divide
•Leads to some short term commercial losses
•A legal challenge could paralyse the game
•The overall pot would be much less than anticipated
5. RANGERS TERMINATED OR SUSPENDED
•Complete financial meltdown
•Settlement agreement is obliterated
•Fans are lost to the game forever
•The game survives but where?
SO WHAT EXACTLY ARE WE BEING ASKED TO CONSIDER?
•Rangers in the IRN-BRU First Division this coming season
•A one off fee to buy out the Rangers media value. (£1million) thus protecting the current contracts in place.
IF WE AGREE THEN WE REQUIRE THE FOLLOWING
•Play-Offs immediately, based on our format
•A new distribution model with the settlement agreement value protected and future proofed
•An amalgamation of the SPL & SFL
•A more balanced governance model (as circulated)
WHICH WILL DELIVER BENEFITS TO THE SCOTTISH FOOTBALL LEAGUE
•Immediate cash benefit for all 30 clubs!
•Gate receipt uplift in Division 1
•Potential hospitality & advertising values increase
•Sponsors receive added value through additional exposure
•Scottish Government remain committed to our community strategy
•SFL has more influence at the top table
•Play-Offs restore the sporting meritocracy and deliver additional value
AND BENEFITS TO SCOTTISH FOOTBALL
•A unified plan presented to the Scottish footballing public which offers real possibilities for the game
•Keeps all 42 clubs together avoiding a divisive SPL2 split
•Deals with the need for sporting integrity with regard to Newco
•Delivers innovation in the form of a single league, Play-Offs and a pyramid plan
•Delivers new value for the game
•Potentially narrows the financial gap between Scottish Premier League & Scottish League
•Shows leadership for the game in Scotland
•Allows fans to engage in the bigger picture
•A positive media outcome