Manager fall out not a factor in Kyle Lafferty's Rangers departure
Northern Ireland striker wanted new challenge by signing up with Swiss side FC Sion.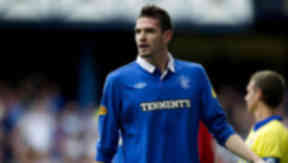 Kyle Lafferty's fall-out with Rangers boss Ally McCoist had no bearing on his decision to sign for Swiss side FC Sion, said the Northern Ireland star.
Ex-Ibrox striker Lafferty was given a two week cliub ban by McCoist in April after he refused to travel to Edinburgh for a clash with SPL rivals Hearts.
He became one of the ten players to reject a move to the newco Rangers last week but insisted his move to Switzerland was motivated by the need for a new challenge.
Lafferty, 24, told Sky Sports News: "Everyone is thinking that the fall-out I had with the manager had a big say but me and the manager spoke and we are friends again and I'd love to play under him again.
"He has had a tough year and you have to feel sorry for him. He is a great manager and is one of the lads really - he will be there and get the lads fired up for the challenge of whatever league they are in."
The boyhood Rangers fan had warm words for his former colleagues at the Govan club and said they will always be Rangers despite the financial crisis engulfing them.
Lafferty added: "It is just sad to see the club get liquidated [but] it is always going to be Rangers.
"No matter what the name is, it has the same fans, the same manager, same players and Rangers are going to be around for a lot longer."