Scottish Football League clubs meet to discuss newco Rangers proposal
No vote will be taken at the meeting of the 30 members of the league at Hampden on Tuesday.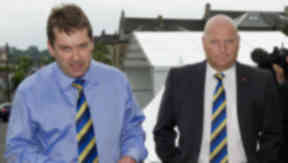 Scottish Football League clubs will meet at Hampden on Tuesday to discuss proposals which could see newco Rangers parachuted into the First Division.
A proposal was sent to the 30 teams in the First, Second and Third Divisions last week, suggesting a compromise to allow Charles Green's proposed side to bypass the normal practice of applying for a place in the bottom tier.
A one-off payment of £1m for TV rights to show Rangers games, to be divided among clubs, was suggested.
In contrast, the document warned as much as £16m could be lost from the Scottish game as a whole if the club were forced to start in the Third Division.
No vote will be taken of clubs at the meeting. Representatives will instead argue the case for and against potentially forgoing the integrity of the league to ensure their respective club's finances do not suffer.
SPL clubs are due to vote on Wednesday over whether Rangers' member share of the league will be transferred to the new company.
Seven clubs have already publicly stated they will vote no, meaning Green will fail to get the required 8-4 majority to be given a place in the top flight.
The businessman, however, remains hopeful of forcing a last-minute turnaround in opinion, having extensively lobbied club chairmen to change their mind.
Should he fail, the decision will then fall to the SFL to vote on whether to allow them to skip two divisions to be part of the second tier this coming season, or force the club to go through an application process to start in the Third Division.