Charles Green: 'Fans should listen to the economics of losing Rangers'
Chief executive of newco Rangers warns of consequences of voting them out the SPL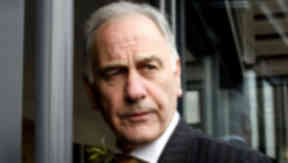 Charles Green says fans have to listen to the economics of "financial meltdown for the whole world" as the SPL prepares to vote on allowing newco Rangers in or out of the top league.
Speaking at Ibrox Stadium, the chief executive of the company looking to continue the Rangers legacy following the liquidation of the club said he is speaking to the chairmen of SPL clubs to attempt to change their minds on voting no to the newco.
Green needs seven clubs, together with the vote for Rangers being cast by Duff and Phelps, to secure a membership transfer from the old Rangers FC Plc to his Sevco Scotland consortium.
Green said: "I'm not convinced it's just what I can say that will change their minds. I think chairmen have to listen to their fans but the fans have to listen to the economic reality, not just for football but for every business.
"This is financial meltdown for the whole world and football is not isolated from that position.
"Tomorrow is not a vote for 'Rangers out', it could be a vote for other clubs to be closed down and that again is unfair that some fans would lose their clubs."
Green, who backed his chairman Malcolm Murray's statement apologising on behalf of Rangers for the turmoil engulfing the Scottish game, said that removing Rangers from the SPL would have long running effects on the game.
He is still holding out hope that the member clubs will allow the membership transfer.
Green added: "It takes only a very, very short time to say yes but it will take an eternity to say no."