Scottish Football League clubs to vote on newco Rangers proposal
Representatives will meet again at Hampden on Thursday, July 12 to make their decision.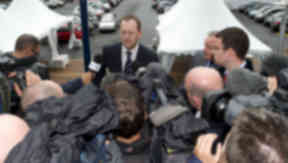 Scottish Football League clubs will vote next Thursday on plans to allow newco Rangers to play in the First Division.
The 30 members of the league met at Hampden on Tuesday to discuss the proposals, which would see Charles Green's new club bypass the bottom two divisions in exchange for a TV rights payment of £1m and the introduction of play-offs.
The SFL board has ruled a simple majority will be required in the vote. A number of clubs have already indicated they will abstain due to a conflict of interest.
Speaking after the meeting, chief executive David Longmuir said: "Clubs are now in a much more informed position to go back to their own boards and fan groups and take the information we gave them today to go and make informed decisions.
"It is time to give them time to reflect on the scenarios and consequences of the different scenarios and engage in proper dialogue with their own boards and fans.
"The meeting was very forthright. We care about the future of the game. It is time for a bit of reflection and space to digest what they got today. We will all be in a better position in a few day's time.
"I think the magnitude of the situation and the effect of the crisis we have found ourselves in... it doesn't really matter how it has arisen. It will have a massive impact on the future of the game."
HEAR FROM MORE SFL CHAIRMEN
Livingston chairman Gordon McDougall speaks out on newco Rangers
John Yorkston addresses the media following Hampden meeting on Rangers newco