Scottish FA 'will block any move to accept newco Rangers into SPL'
Stewart Regan says his comments at meeting with SFL clubs were taken 'out of context'.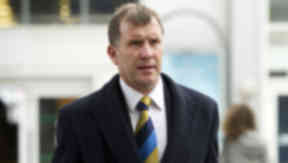 Scottish Football Association chief executive Stewart Regan has allegedly told Scottish Football League chairmen that his organisation would block any attempt to allow a newco Rangers into the top flight.
Livingston chairman Gordon McDougall stated Regan had made the claim during a discussion at a meeting of all 30 SFL clubs at Hampden on Tuesday.
Regan has since denied the claim, saying his comment "was distorted, taken out of context and leaked to the media by a member."
Sides in the SPL will vote on Wednesday over whether to approve the transfer of Rangers' member share of the league to Green's new company.
An 8-4 majority is required to ratify such a move, but seven clubs have already stated they will vote no.
Green though remains confident that some club chairmen will change their minds at the last minute and allow his team to participate in the top flight.
Should he fail, SFL clubs will vote on proposals to include a newco Rangers in the First Division, instead of having an application process for them to potentially join Division Three, next Thursday.
McDougall's claim
When asked if Regan had stated during his address to SFL representatives that the Scottish FA would stand in the way of newco Rangers playing in the SPL, Livingston chief McDougall remarked: "In his opinion, yes".
Despite McDougall's claim, Regan responded stating he did not say the Scottish FA would intervene.
"The Scottish FA was invited to participate in today's meeting of the Scottish Football League's members at Hampden Park," he said in a statement.
"During a positive and productive meeting, a number of detailed scenarios were discussed regarding the future status of Rangers FC as a newco club.
"Unfortunately, a comment relating to one potential scenario - Rangers FC's readmission to the SPL - was distorted, taken out of context and leaked to the media by a member.
"For the avoidance of doubt, any decision regarding the future status of Rangers FC requires not only the transfer of the SPL share but the transfer of the Scottish FA's membership.
"The Scottish FA Board will approve this only when all relevant information has been provided and the directors are satisfied that the solution presented is in the best interests of Scottish football."
More content
Watch Livingston chairman Gordon McDougall give his interpretation of Regan's comment