Rangers crisis: SPL clubs give their reaction after 'no to newco' vote
SPL 'overwhelmingly' reject transfer of league membership to Sevco Scotland Ltd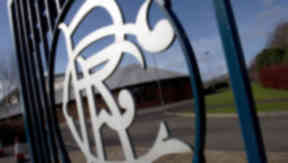 Scottish Premier League clubs have begun to clarify the reasoning behind their votes to reject a transfer of Rangers' membership to the newco.
Newco Rangers will not compete in the SPL next season as clubs voted "overwhelmingly" against the membership transfer.
In a vote at Hampden on Wednesday, the clubs rejected an application by the new company, Sevco Scotland Limited, to allow it to inherit the old club's SPL share.
A spokesman for the SPL said: "At today's general meeting, SPL clubs today voted overwhelmingly to reject the application from Rangers newco to join the SPL."
Here's the reactions so far from clubs after the vote:
Aberdeen
No comment
Vote: No
Celtic
"Celtic Football Club today confirmed that it opposed re-admission to the Scottish Premier League by Rangers newco.
"Today´s decision to refuse access into the SPL was an overwhelming one and demonstrates the depth of feeling amongst everyone involved in Scottish football.
"Fundamentally, the Celtic board has also been very mindful of the need to take what it believes to be the correct course of action in protecting the integrity of the game in Scotland.
"The matter is now within the jurisdiction of the Scottish Football Association and it will be for the SFA to decide on the future of Rangers newco."
Vote: No
Dundee United
No comment
Vote: No
Hearts
No comment
Vote: No
Hibernian
No comment
Vote: No
Inverness CT
No comment
Vote: No
Kilmarnock
No comment
Vote: Abstained
Motherwell
"As we have stated previously, the situation has potential serious financial consequences for the club. It is a matter of huge regret that we are put at risk through no fault of our own but must work in every way possible to protect the club.
"We will be asking our supporters to do whatever they can to assist the club in these extremely difficult time, further details will follow in the next few days."
Vote: No
Rangers
"We are deeply disappointed that our application to rejoin the SPL has been rejected overwhelmingly by the member clubs.
"We will now proceed as we had planned from late June to apply for membership of the SFL."
Vote: Yes
Ross County
No comment
Vote: No
St Johnstone
No comment
Vote: No
St Mirren
"As you will now be aware St Mirren FC today voted against the application by the Rangers NewCo to be admitted to the SPL. This vote was part of an overwhelming rejection of the application by the SPL member clubs.
"It will now be left for the SFA and SFL collectively to decide where the Rangers newco will play it's football next season.
"Those organisations will make their decision in due course without any pressure from the SPL or it's member clubs and we will fully respect whatever decision they make.
"We now hope that the St.Mirren support will get fully behind the club and team as we prepare for the new season and start once again to focus on football matters."  
Vote: No