Carlos Bocanegra says he will 'explore his options' amid MLS interest
The American defender says he will speak to Ally McCoist before deciding where to play this season.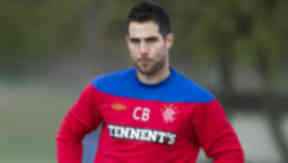 Carlos Bocanegra says he remains unsure if he will return to Scotland to play for newco Rangers this season.
The 33-year-old has been given extra time off since featuring 34 times for the Ibrox club last season after signing from St Etienne.
With continued uncertainty over which league the Glasgow club will play in, Bocanegra has refused to rule out a move back to America.
Speaking at a softball event in Kansas City, he said: "I've got to explore my options. I need to speak with the coach, as well. We kept missing each other. It wouldn't be fair to speak out of turn if I haven't spoken to him yet."
Bocanegra has attracted interest from MLS side New England Revolution with coach Jay Heaps saying the former Chicago Fire player "is one of a number of players we'd like to come back".
Asked about the prospect of returning home, the defender said: "I'd 100% consider playing in MLS again. I started here and I know the league well. I know it's a demanding league, a physical league."