Charles Green 'paid £2.75m for Rangers player contracts and registrations'
A creditors' update from Duff and Phelps shows Sevco Scotland paid £1.5m for 'heritable properties'.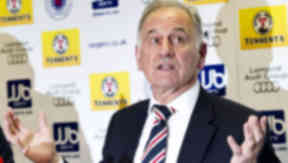 Charles Green's £5.5m agreement to buy the assets of Rangers included a £2.75m payment to purchase the contracts and registrations of the club's players.
A report from administrators Duff and Phelps has broken down the "asset realisations" of their sale of the business to Sevco Scotland Limited. It shows Green paid for the club's employees to transfer to his company under TUPE regulations.
Numerous players have subsequently refused to take up employment with Sevco, exercising their right under employment law to terminate their contracts.
Green has vowed to challenge those who have departed, with the Scottish FA so far having refused to issue International Transfer Certificates to allow players to complete transfers to new clubs.
It is claimed Green also paid £1.5m for "heritable properties", understood to be Ibrox Stadium, Murray Park and the Albion car park.
The club's member share of the Scottish Premier League and its membership of the Scottish Football Association were each sold for £1. SPL clubs subsequently refused to allow Rangers' share to be transferred to Sevco at a vote last Wednesday.
The document, issued to the old company's creditors, also outlines the six "credible" offers received for the business between April 4 and the final asset sale to Sevco on June 14.
It also claims a last minute £6m verbal offer was received for the assets of the company from a previous interested party, following the failure of Duff and Phelps to secure a Company Voluntary Arrangement. This was rejected because of a "binding, contractual agreement" with Sevco.
FURTHER READING