Charles Green: 'Number of issues for Rangers over SFA membership'
The governing body are yet to grant the Ibrox club a membership to play in SFL3.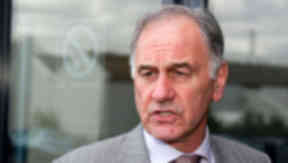 Charles Green says there are still a number of issues between his Rangers newco and the Scottish Football Association before the club can be granted a membership to play in the Scottish Football League.
SFL chairmen voted Green's new company into the Third Division at a vote at Hampden on Friday with Dundee gaining a place in the SPL for season 2012/13.
Although the league bodies have decided which level the Rangers will compete in this season there is still the outstanding issue of the membership being transferred from the old company to the newco.
All clubs require this membership to play professional football in Scotland.
Speaking exclusively to STV, Green said: "We wish Dundee every success and we are now looking forward to reaching an agreement with the SFA so that we can get on and start playing in the Third Division.
"I don't think there's a time limit on it [the membership] but we definitely need it as soon as possible but there's still a number of issues outstanding between Rangers and the SFA and we're working on them now."
On Monday, Dorin Goian's agent told STV the Romanian defender will move on if the club remained in the bottom tier of the Scottish league system.
And Green admits the 31-year-old is likely to leave the club now. He added: "I spoke with Dorin yesterday and he has been fantastic throughout but it is unlikely that he would stay with Rangers playing in the Third Division.
"Clearly if he wanted to stay then we'd be delighted but for a player of his status and stature it is unlikely."
Pressure continues to grow over the position of SFA chief executive Stewart Regan after he warned of a 'slow, lingering death' for Scottish football should the Rangers newco not be admitted to Division One or the SPL.
When asked if Regan's position was untenable Green said: "Well I think for everyone who has been involved with this story it has been difficult.
"Leaked emails are never helpful and I'm sure Stewart will do the right thing."