Full video interview: SPL chief Neil Doncaster on Rangers and his future
The chief executive speaks to STV's Gordon Chree as Dundee are promoted to the top flight.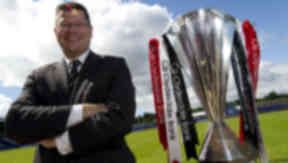 Scottish Premier League chief executive Neil Doncaster is unable to provide clarity on the prospect of £15.7m being lost through commercial contracts.
The top flight warned they faced losing TV deals with Sky, ESPN and SPORTFIVE if Rangers were not voted into the First Division.
SFL clubs decided to send the newco to Division Three, meaning the Ibrox side will not participate in the top flight for at least three seasons.
The threat of a "slow, lingering death" for Scottish football, as forecasted by Scottish FA chief Stewart Regan, is yet to come to pass.
Doncaster says discussions with commercial partners will continue over the coming weeks with a view to a solution.
In his interview with STV's Gordon Chree, Doncaster also laughs off calls for him to resign and says any decision on whether he should remain in his post lies with the league's 12 member clubs.