Carlos Bocanegra and Maurice Edu set to join Dorin Goian in Rangers exit
The American pair will leave the club because of their Third Division status, says Charles Green.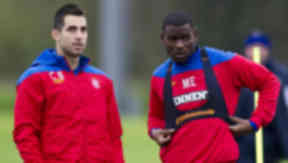 Carlos Bocanegra and Maurice Edu are set to join Dorin Goian in leaving Rangers.
The American duo will be allowed to leave Ibrox after the club's position in the Third Division was confirmed, pending the Scottish FA giving Charles Green's company membership.
Goian will also leave after Rangers' entry into the bottom tier and Green says all three players will leave with his blessing.
He told Sky Sports News: "I was at Murray Park with Carlos on Sunday and he was out there jogging. He's been playing international matches which is why Ally [McCoist] allowed him to come back later.
"They [the three players] said to us they would stay if we had gone down a division. To ask them to stay in the Third Division is a bridge too far.
"We are going to lose some more players now unfortunately for different reasons than why the last ones left. We sympathise and thank them for their loyalty."
Ten players refused to take up employment with Sevco Scotland Limited, the Rangers newco, within the last few weeks.
Seven of those players have found new clubs but have been unable to play because the Scottish FA are refusing to give international clearance, as Green disputes their ability to leave on free transfers under TUPE regulations.