Sevco denies claims Brian Kennedy in talks to acquire Rangers shareholding
The Sale Sharks owner has said that his interest in buying the Ibrox club remains.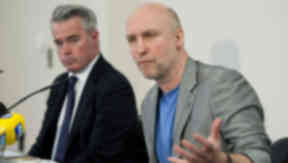 Sevco Scotland Limited have denied claims they have held talks with Brian Kennedy over the purchase of a majority shareholding in the company.
The businessman said on Monday morning he had been in discussions with the company, which owns the assets of The Rangers Football Club plc and is bidding to have the club's membership of the Scottish FA transferred to it.
Charles Green, chief executive of Sevco Scotland Limited, said: "For the avoidance of doubt, the owners and board of the club are not interested in selling a majority stake in Rangers to anyone.
"I have said many times we are happy to talk to potential investors who wish to join the consortium on the basis that no single investor will have a majority shareholding and they support our commitment to a share issue for fans.
"We have checked with all the official representatives of shareholders and none of them have had meetings with Brian Kennedy so we have no idea who the gentleman is he is referring to.
"He has not contacted any board members on this matter and we have never received any written offer from him.
"Many people had the opportunity to purchase the club prior to our consortium but failed to do so, including Mr Kennedy.
"Talk of yet more bids is a distraction from the very real task of securing SFA membership and rebuilding the club for the future.
"That is our sole focus and should be the priority for everyone with Rangers best interests at heart."
The Sale Sharks rugby club owner, who was previously a rival bidder to Green to buy the troubled Ibrox club, released a statement on Monday saying that he had held a series of talks about buying a controlling interest in the new Rangers company.
"I have recently had several confidential meetings with a gentleman representing the shareholders of Sevco, with regards to my interest in purchasing a majority shareholding in Rangers Football Club," Kennedy said.
"The details of these meetings and the written offer I have submitted have been disclosed from within the club.
"Now that this has leaked I have no alternative but to confirm that what is reported in the Daily Record regarding such matters is accurate."
Kennedy had been one of several bidders for Rangers earlier this year and, after his initial offer was rejected, joined forces with Paul Murray's Blue Knights consortium.
Rangers administrators Duff and Phelps chose Green's consortium as preferred bidder, prompting Kennedy and Murray to address the media questioning the decision and signalling the apparent end of their interest.
Green was unable to deliver a CVA to save Rangers and subsequently set up a new company to buy the club's assets. He is currently negotiating with the Scottish Football Association to secure a membership that will allow the club to play football in Scottish Football League Division Three this season.