Craig Beattie 'disappointed' after signing talks with Rangers end
The former Hearts and Celtic striker denies his cash demands caused discussions to stall.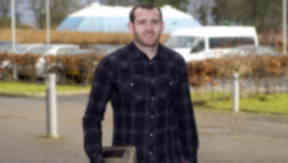 Craig Beattie says he's 'disappointed' not to join Rangers after signing talks with the club came to an end.
The former Hearts and Celtic player had trained with Ally McCoist's men at Ibrox along with ex-Tynecastle team-mate Ian Black.
However Beattie says he won't be making a permanent move to the Glasgow side.
Speaking to the Daily Record he said: "I'm disappointed things didn't work out.
"The situation dragged on and I don't want to go into too much detail but it's important I clear one or two issues up.
"There seems to be a perception the deal fell through because I was holding out for more money – and that could not be further from the truth.
"I was prepared to drop down the divisions not to make a fast buck but because I wanted to be part of something big.
"I wanted to play my part in getting Rangers back to the top of the Scottish game. I felt I could score the goals to get Rangers back up the league and was prepared to accept all the criticism that would have come my way because of my time at Celtic.
"I spoke to Ally and was under the impression he really wanted me on board and that excited me.
"But in the end, it became obvious he and Green were not on the same wavelength. I don't want to say any more than that."