Bilel Mohsni agent defends player reaction after Fir Park fracas
The Paris-based representative launched a defence of the Rangers player after Sunday's game.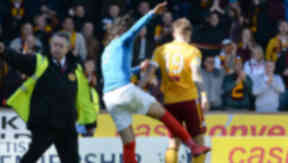 Bilel Mohsni's agent has defended the actions of his client following Sunday's play-off clash between Rangers and Motherwell.
The Well striker and the Tunisian defender clashed moments after the final whistle blew in the wake of Motherwell's 6-1 aggregate win, which saw Ian Baraclough's men retain their place in the Premiership.
Striker Erwin attempted to shake hands with Mohsni before shoving the 27-year-old. Mohsni then lashed out, punching and kicking the young forward.
STV understands that a meeting will take place on Monday which will involve both the SPFL and Police Scotland regarding the incident and what action to take.
Speaking on Monday, Mohsni's Paris-based representative Jerome Dakad defended the actions of the player.
"I had a quick few words with him yesterday after the game and we have exchanged messages," the agent told Press Association Sport.
"I've seen the incident and it is clear he has made a mistake. His reaction was wrong - there is no doubt about that.
"But I don't see any reason for the other guy to taunt him. It was a bit stupid. They had won the game. There was no point pushing Bilel. Just leave it.
"Bilel has lost the game, then the guy has pushed him from behind. What was he expecting?
"You can't forgive the reaction of Bilel but what should he have done? Obviously it has happened to Bilel which is unfortunate, but if it happened to somebody else, what would they have done?"
warning: video contains bad language
The 27-year-old is out of contract this summer and has been told he won't see his current deal extended after Rangers manager Stuart McCall labelled his behaviour 'disgraceful' following the match.
The player's agent later confirmed the position between Mohsni and the club.
"He won't be staying at Rangers after that but I can't tell you where he is going to end up because I don't know," he said. "But he will leave the country, that's for sure now.
"Do I worry that this will put other clubs off taking a chance on him? The clubs in the UK, yes. Abroad is a bit different but his reputation in the UK has been altered now.
"His career in Britain is over. But that is the way it is."
He added: "For the people who know Bilel off the pitch, he is a very nice boy. But it is difficult to know what goes on in his mind sometimes.
"He has got to be able to deal with his frustration better. That's his problem. I've known him for many years. The potential is there, the quality is there. But he can switch off at times.
"Bilel regrets his reaction but he is an uncompromising and very straightforward man. He sometimes pays for that.
"He really wanted to win promotion and the frustration is huge. He also thinks he could have contributed more. He is devastated just now."
Rangers released a statement later on Monday condemning Mohsni's 'unacceptable' behaviour.
A club spokesman said: "Rangers Football Club will co-operate fully with investigations following the disgraceful scenes at the Motherwell game yesterday.
"Bilel Mohsni's behaviour was completely unacceptable and had his contract not now expired, the Club would have started disciplinary proceedings.
"The Club will also assist with any investigation into the behaviour of Motherwell supporters and we would like to thank the Rangers fans who were excellent in showing admirable restraint despite severe provocation."