Bilel Mohsni facing immediate SFA charge following Motherwell clash
The Scottish FA are expected to issue a notice of complaint for the Rangers player in the next two days.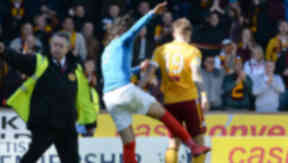 The Scottish FA are set to issue a notice of complaint against Rangers defender Bilel Mohsni in the next 48 hours.
The Tunisian international clashed with Motherwell striker Lee Erwin moments after the final whistle blew in the wake of Motherwell's 6-1 aggregate win on Sunday, which saw Rangers remain in the Championship for another season.
After an on-field dispute described by his own manager, Stuart McCall, as "disgraceful", Mohsni faces an immediate charge from Hampden officials.
The Scottish governing body do not fast track such cases, instead using their guidelines to take their time to consider all the evidence.
But STV understands the compliance officer has been gathering reports since the incident took place and is likely to be in a position to issue a charge by Wednesday.
It is not known whether Erwin and his team-mate Fraser Kerr, who himself struck Mohsni, will also be charged.
Twenty-seven-year-old Mohsni is out of contract at Rangers this summer and has been told his current deal will not be extended following Sunday's ordeal.
A situation that led to his agent suggesting that the defender may struggle to find another club within Scotland or England.
The player's representative told the Press Association on Monday: "He won't be staying at Rangers after that but I can't tell you where he is going to end up because I don't know.
"But he will leave the country, that's for sure now."
He added: "Do I worry that this will put other clubs off taking a chance on him? The clubs in the UK, yes. Abroad is a bit different but his reputation in the UK has been altered now.
"His career in Britain is over. But that is the way it is."