Halliday: We'll ignore Hibs noise and do our talking on the pitch
The Rangers midfielder is confident his side can keep their top spot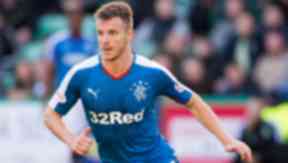 Rangers midfielder Andy Halliday isn't concerned about the noises coming out of Hibernian, insisting his team have more quality than their title rivals and will do their talking on the pitch.

The Easter Road side have remained unbeaten in their last 10 league games and could move to within two points of Rangers at the top of the Championship table if they beat Livingston on Tuesday night.
Halliday isn't worried just yet and believes his team have what it takes to see off the Edinburgh side come May.
He said: "Obviously Hibs won that game at Easter Road so they have their bragging rights. They've got whatever they want to say in the media.
"But to be honest I'm not too interested. Obviously we've got the same expectations as they've got to try and win the league but we've got higher demands than them.

"We've got the belief that we've got what it takes to win this league. One defeat out of 12 is not so bad but at the same time it felt like a bigger defeat than normal because it was such a big game."
Alan Stubbs' side ended Rangers' own unbeaten run earlier this month, leading key player Jason Cummings to suggest that Hibs could go all the way and pip Rangers to the Championship title.
Halliday isn't convinced and says there is still plenty of football to be played between now and the end of the season.
He said: "All credit to Hibs on the day. They got the result. On the day we thought we deserved to get something out of the game but they probably felt as though they deserved something out of the game at Ibrox so it's swings and roundabouts.
"But it's a long season. Even when we won 10 out of 10 we said it was a long season and Hibs certainly think they have the quality in the changing room to try and get back at us.
"They won the game but it's a long season and at the end of the day we're five points clear at the stop of the table, so it's nothing that we're worried about anyway."
He added: "I think Hibs have a very good squad this year. In my opinion it's a better squad than last year. But we've got a better squad than last year as well.
"So it's two good teams going at it. But we certainly think we've got more in this changing room and we'll look to prove that over the course of the season."