Miller: I want to win Premiership title with Rangers before retiring
Former Scotland striker has claimed four top flight titles during his career at Ibrox and Celtic.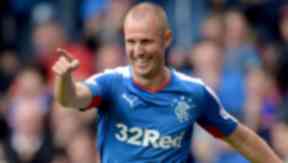 Kenny Miller has revealed he's determined to win another Scottish Premiership title before hanging up his boots.

The 35-year-old signed a new contract with the Championship league leaders to remain at Ibrox until 2017 and hopes he will gain another crack at the top flight next term.
Miller has claimed three titles as a Rangers player as well as one with Celtic during the 2006/07 season.
After pledging his future to Mark Warburton's team, the forward hopes to add one more championship medal to his collection before giving up the game.
He said: "It gives me the opportunity to have a real go at winning the league back and ideally, which for me I'd love to finish here.
"I take it as a big compliment that he's [Warburton] has done it so early. I'm absolutely delighted it is done and I can get the head on and fully focus on being fit and contributing as much as I can to the team to get us back to the top flight.
"We want to win the league this year, get back to the top flight and ultimately we need to win that league back. That's what the fans expects and us as players are demanding of each other.
"We don't want to be going up there and just challenging or be a top six team. We need to be challenging for that league. "
When he decides to stop playing, former Scotland international Miller has set his sights on becoming a future Rangers manager.

He added: "Well that would be fantastic. Management is definitely a road I want to go down whether it means I have to go down to coaching, an assistant or work with youths first but for me ultimately it will be first-team management.

"If I could come back here in the future then that would be a dream come true."
As debate continues to rage over the possibility of titles being stripped from Rangers in the wake of the Ibrox oldco's court defeat on employee benefit trusts to Her Majesty's Revenue and Customs.
Miller had his brief say on the issue, adding: "I know how hard I had to work to earn those titles and for me that is good enough."