Rangers skipper: There's worse than fist pump celebrations in football
Lee Wallace says players will watch their goal celebrations until they receive clarity.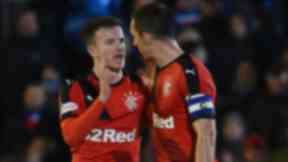 Rangers captain Lee Wallace has called for clarity and common sense over goal celebrations in the wake of Andy Halliday's red card at Morton, adding players receive a lot worse abuse than a fist pump.
Midfielder Halliday received a second yellow card from referee Barry Cook after being accused of raising his arms towards the home fans after Barrie McKay's goal in the 2-0 win.
Manager Mark Warburton says the match officials told him Halliday's actions could "incite a riot" at Cappielow.
Defender Wallace believes the matter has been blown out of proportion, adding: "We as players receive a lot worse than a fist pump or a celebration.
"That's part and parcel of the game. We're thick-skinned and know each time we take to the field at an away venue we're going to get it.
"We know each time we take to the street we're going to get it. It's a 24/7 lifestyle for us and we know we're going to get abuse."
Rangers have asked the Scottish FA for clarity and Wallace says he and his team-mates will have to exercise caution when celebrating goals until they receive an explanation.
He said: "The referees are going to need to come to an agreement on what can be done in terms of celebrations. Of course we know we can't jump into crowds. There are certain gestures that merit yellow cards.
"We know on one hand you can't overdo it with the celebrations. The referees and police came in earlier in the season and discussed the safety procedures with us. We are well aware that taking your top off or anything like that will merit a yellow card.
"But equally, there also has to be a common sense part of it. You have to be passionate.
"Andy is a born-and-bred Rangers fan. Barrie scored a great goal and he celebrated it. He's a passionate man and we have to preach that type of passion in the game, albeit without stepping over that mark.
"We don't know if Andy has done that or not. I'd imagine we'd have to have a bit of clarity because moving forward it is a real shaky one for the officials.
"We know the dos and don'ts include things like placing your hand to your ear or the 'shushing' motion in the area of the fans. But Andy was in the middle of the pitch. Again there might need to be a bit of clarity in the where, when and how you celebrate.
"It's down to the officials and guys like (SFA head of referees) John Fleming to find a solution."