Mark Warburton labels Celtic boss 'disrespectful' over pitch claim
Ronny Deila said it's "very old fashioned" to criticise artificial surfaces.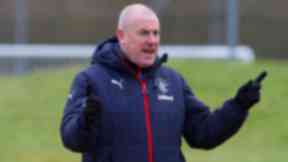 Mark Warburton has accused Ronny Deila of being disrespectful after the Celtic manager claimed criticism of artificial pitches is "very old fashioned".
Last week, the Rangers boss called on artificial pitches to be banned in Scotland's top flight following an injury to his top scorer Martyn Waghorn at Kilmarnock's Rugby Park.
Deila disagrees with the Light Blues boss, saying he would welcome more 3G surfaces as long as they're up to standard.
The Norwegian said he would be happy to have an artificial pitch at Celtic Park if it was as good as the surface at the Lennoxtown training base.
He said "I would say yes, I wouldn't have a problem with it. It has to be perfect, with a perfect watering system, but yes. A very good grass pitch is number one and a very good artificial pitch is number two."
However, today Warburton defended his position, adding: "If Ronny did say that then I think that's disrespectful because you are entitled to your own opinion.
"I think the one line for me that jumped out from that interview is number one, there's a good grass pitch and number two there's a good artificial pitch.
"If you're happy to accept second best then go for the artificial pitch, if you want to set the higher standards then you go for the best quality of grass pitch. That for me was the one sentence that summed it up."
Warburton claimed the Rugby Park surface caused the knee injury to Waghorn which has left the striker facing the prospect of missing the remainder of the season.
Celtic will play on Hamilton Accies' artificial pitch when they travel to New Douglas Park for the Scottish Premiership clash on Friday evening.
Hibs defeat won't change our attitudes says Rangers boss
Mark Warburton says his Rangers side will not be distracted by results elsewhere as the Scottish Championship title race heats up.
Hibernian lost 3-0 at home to Morton in the league on Wednesday evening, missing the chance to close the eight point gap on Rangers.
The Ibrox manager says despite maintaining their advantage at the top of the table it's still all to play for.
"It's got to be about us, that result doesn't change anything for Rangers," he said. "We have to train well and prepare for St Mirren.
"Last night doesn't change our approach or our attitude. It's about Rangers going into the game and delivering the level we need to deliver to get the three points.
"There are a lot of difficult fixtures home and away to play. All we can focus on is our next game.
"There's a number of teams chasing the last play-off spot and it's tight and those teams will give it a go. We have to respect that and prepare well."