Charles Green: There is an 'agenda' against Rangers in Scottish football
The Ibrox chief executive assured fans buying season tickets he would fight for the club.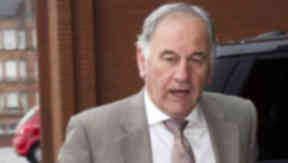 Charles Green has accused Scottish football's authorities of pursuing an agenda against Rangers.
The chief executive, addressing fans queuing to buy their season tickets on Tuesday, said he intended to continue to defend his club, even if it meant incurring the wrath of the Scottish FA.
Green is already facing a charge for claiming the decision to place Rangers in the Third Division was partly driven by "bigotry" but says he won't stop speaking his mind.
"We're not having, excuse my French, people taking the pee out of us anymore," said Green. "It's finished.
"I will give you an example. This morning, I had a phone call from the SPL telling us we can't put our old games on the website because we don't own the archive rights.
"'And by the way, Charles, don't get angry. You shouldn't think we are being vindictive, it's just what the agreement says".
"Tell me how I took that? I was walking on the ceiling. I think there is an agenda.
"There's still battles to be won. I shan't let you down. I said to someone earlier that when everyone was against us, we stayed. People are now warming to us and we are staying.
"But if we leave fans to one side for a moment, while ever that lot are against us, I'm not leaving. There's no-one spoke for this club for three or four years. It's not had anyone standing up.
"I am going to get fined every week, I suspect, or I will get banned."
Rangers were issued a Notice of Complaint by the Scottish FA late last week regarding Green's comments, having been accused of bringing the game into disrepute for his remarks.
He said before his side's Challenge Cup tie with Brechin City: "Some of it has been driven by bigotry, some of its been driven by jealousy and some of its been driven by all the wrong motives."
As fans queued for season tickets, Green said their contribution would directly affect the amount of money available to manager Ally McCoist to bring in new players.
"I made a promise to Ally the other day," he said. "You can't see it but there is a sign up there and I said 'While the queue for tickets is this side of that line, we will keep signing players he wants to sign for the club."
In response to Green's comments about Rangers being unable to use SPL archive footage on their website, a spokesman for the league told STV: "Rangers were indeed informed this morning that, following their exit from the SPL, they do not currently have permission to use SPL-owned media content.
"However, during that same conversation, Rangers were also invited to meet with us to discuss the future use of that content. We look forward to meeting with them."