Ally McCoist calls for SPL to drop probe after 'satisfying' EBT verdict
The Rangers manager says the 'right decision' was reached by a First Tier Tax Tribunal.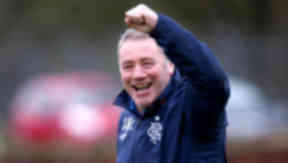 Ally McCoist has echoed calls for the Scottish Premier League to drop its investigation which could see Rangers stripped of titles.
An independent inquiry will hear evidence in early 2013, over allegations EBT payments made to players should have been, but were not, declared to the league.
A tax tribunal concluded this week that the payments were loans, not remuneration, but the investigation will be continue to be heard on behalf of the SPL.
Former chairman Alastair Johnston called in the immediate aftermath of the judgment for the case to be dropped, a call repeated by Rangers supporters.
"I would be extremely hopeful that common sense would now prevail and they would drop it," McCoist said.
"That would be the ideal situation and we could all start moving forward again. All we want is an opportunity to start again and move forward.
"If they did that, there would certainly be closure on that point and we could start again."
The tax tribunal found in favour by two to one, failing to achieve a unanimous view but by majority deciding the EBT payments were loans.
McCoist said of the verdict: "From the club's point of view, it's one we hoped we would get,"
"The over-riding feeling was satisfaction and pleasure. We feel it was the right decision and we're delighted with it."