Players' union defends right to raise legal action against Rangers
PFA Scotland has said it is acting on behalf of all its members and not 67 individuals claimed by Rangers.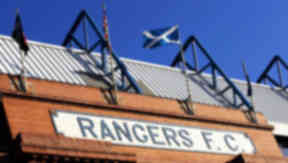 The Scottish players' union has issued a strongly worded response to Rangers' claim that 67 unnamed players were raising legal action against both the old and newco.
It comes after Rangers revealed in its share prospectus that it was robustly defending an action by "PFA Scotland…on behalf of 67 unnamed players at the employment tribunal in Glasgow".
Players also distanced themselves from the action apparently being taken on their behalf.
PFA Scotland initially declined to comment but released a statement on Tuesday saying it wished to clarify its position.
The players' union said that it was entitled to make a claim without the consent of individual members.
The statement said: "For the avoidance of doubt, the claim for a Protective Award has been raised in the name of PFA Scotland only. It is one legal claim and has not been lodged in the name of any player let alone some 67 individual players as has been reported.
"It is quite simply inaccurate therefore to suggest that PFA Scotland has acted here without instructions. PFA Scotland does not require instructions to raise a court action in its own name. PFA Scotland regularly represents its members as a collective - for example when speaking to the football governing bodies."
The union revealed that no individual player may wish to pursue or benefit from the claim but that as a representative body it had raised concerns with Rangers and administrators Duff and Phelps over their TUPE obligations.
"It is also important to clarify the legal basis of the claim. The law places an obligation on employers to collectively consult with trade unions/employee representatives in advance of a TUPE transfer and trade unions/ employee representatives regularly litigate such claims before Employment Tribunals.
"It may be that no player will pursue this. That will simply be a matter for each player and in fact many of the players have already stated that they will waive any such entitlement. It must be stressed that the motive for PFA Scotland in pursuing this claim has never been financial."
A spokesperson for Rangers told STV on Monday: "Rangers position is that these claims are baseless and invalid and affect, in reality, a small number of players who left the club in the summer."
PFA Scotland said that the action was also a response to Rangers' decision to ask for Scottish FA arbitration over their right to the contract of departed players, which would see Rangers entitled to transfer fees if decided in their favour.
The union said that it had informed Rangers that the employment tribunal claim would be abandoned if Rangers dropped their claim for arbitration.
Rangers are expected to issue a statement on Tuesday afternoon clarifying their own position .