Rangers chief executive Charles Green speaks to Scotland Tonight
Watch the full interview with the Rangers chief executive.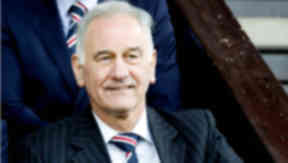 Rangers chief executive Charles Green has spoken to Scotland Tonight on a range of issues affecting the Ibrox club.
In an interview with STV's John MacKay, Ibrox chief Green discussed the club's share issue, the dispute with PFA Scotland over player contracts and the decision to boycott Rangers' Scottish Cup tie with Dundee United.
Rangers revealed in their share prospectus that PFA Scotland had raised a claim through an employment tribunal citing newco and oldco for failing to handle the transfer of contracts properly in June.
Green said that the club would robustly defend itself against that claim and a separate case being brought by former players claiming "constructive dismissal".
"I made the point when these players walked they were in breach of contract," Green said.
"No chance we'll give them up. It's wrong that these players walked out on the club to feather their own pockets."
The chief executive also said that the current share issue, and his recent work at the club, was done with the intention of restoring the club to the top of Scottish football and to compete in Europe again.
"I said when I first came along the reason for me doing it was to make money and the only thing that's changed since the statement I made in May is that my time-scale has been considerably extended," he said. "How we can make a huge amount of money is by getting this club back into Europe, back playing in the Champions League and maybe part of any European restructuring because the future of football is changing, not just in Scotland, but on a European scale."