Ibrox bean counters are Smith's biggest foe
Opinion: Walter Smith deserves better than to be fighting for funds as well as trophies.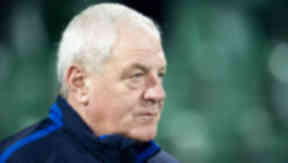 Walter Smith has reached the exalted stage of his managerial career where he doesn't need anybody to apologise for his actions. He can shoot from the hip, secure in the knowledge that he has achieved rather more during the last three years than the majority of football people will cram into a lifetime.
So when the Rangers boss decided to fire a broadside at Lloyds Banking Group and their inability to grasp that any successful business requires investment to encourage future prosperity, he was only telling the financiers what they should already have understood. It wasn't exactly rocket science.
Sadly, though, the manner in which the Ibrox institution is unravelling at the moment suggests that Smith is in danger of becoming a patsy, which would be an abject legacy for somebody who baled them out of the mire after returning to Ibrox, following the disastrous tenure of Paul Le Guen.
On Friday, it was revealed that Rangers have accepted an offer of £700,000 from Birmingham City for Kenny Miller, whose glut of goals have kept them in contention to retain their SPL title for the third successive season. There are also reports that Steven Davis is being lined up for sale to an English Premiership club, for a fee in the range of £2m.
Meanwhile, Smith - or rather, somebody within Ibrox - is making overtures to Dundee United to secure the services of their young striker, David Goodwillie, who, whatever his potential, is several paragraphs short of the finished article in terms of providing instant goals on a regular basis.
Perhaps we shouldn't be surprised by these tales any more. In the ongoing battle between the Old Firm rivals, Celtic have enjoyed a significant financial advantage for the last decade, partly through the largesse supplied by their benefactor, Dermot Desmond, and partly as a consequence of the ruinous "Spend, Spend, Spend" philosophy of Dick Advocaat who, in conjunction with David Murray, thought it was fine to establish a Dutch retirement home in Glasgow, as well as wasting £12m on buying Tore Andre Flo.
But, none the less, the sale of Miller is another indication that Smith is singing from one hymn sheet and the Lloyds apparatchiks from another. It makes no sense whatsoever to flog a Scotland internationalist for such a cut-price sum and particularly when he has been one of the stars of the Rangers campaign thus far in 2010-11.
In fact, it almost makes one wonder if the bank wants Smith to fail, as the basis for lowering expectations over their future prospects. Or, to put it another way: has the bold Walter been too successful for his own good?    
That has to be one interpretation of what has transpired since Smith quit the Scotland management role, en route to Ibrox. In his first full season, he almost orchestrated an unprecedented quartet of trophies, both domestically and in Europe. Then, in the last two seasons, he has danced rings round Gordon Strachan and Tony Mowbray, even despite the arrival of a string of high-class recruits at Parkhead. Smith has done this with at best modest resources, at worst with a bunch of journeymen performers whose efforts might have been calculated to  dampen the passion of those who bought their season tickets.
As things stand, Celtic are four points clear in the SPL race, albeit having played two games more than Rangers. They have just acquired Freddie Ljungberg; they will shortly have renewed access to the services of their prolific striker, Gary Hooper; and even Georgios Samaras, one of the sport's masters of inconsistency, avaricious one week, but anonymous the next, was the man of the match in last weekend's 2-0 victory for the Celts at Ibrox.
One might have imagined that even the monetarists inside the stadium would have appreciated that it wasn't the ideal time for Rangers to start touting their prized assets. But they didn't, befitting their reputation as individuals who know the cost of everything and the value of nothing, and the likelihood is that Celtic will capitalise on this myopic tendency in the months ahead.
Good luck to them if they do. But such an outcome will be dreadfully unfair on Smith, who has made very little go a long way since 2007 and who is surely entitled to feel that a club which has won back-to-back league titles, various Cups, and reached a European final, should be in better shape than flogging Miller for a pittance.
The fans deserve better. And so does Walter Smith. David Murray was never slow to duck into the spotlight when Rangers were hoovering up trophies on the never-never in the 1990s.
So where is he now?