Scottish Football League clubs split 50/50 on league reconstruction timing
SFL chief executive David Longmuir says plans are likely to be put on hold for the time being.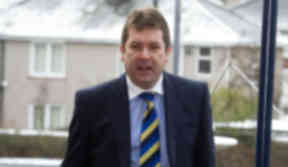 Scottish Football League clubs remain divided over league reconstruction meaning plans are unlikely to be introduced for next season.
Representatives of SFL clubs met at Hampden for further discussions over the plans to restructure the professional leagues. The Scottish Premier League has already agreed to vote on the issue in April.
The SFL chairmen were unable to reach unanimous agreement on the proposals and are split 50/50. No vote has been scheduled but STV understands that in the next few days there will be arrangements made for a formal vote.
SFL chief executive David Longmuir said following the meeting that many clubs felt it was unrealistic to force through change in time for next season.
He said that he was hopeful that the SPL would agree to a season's delay on the the plans.
The proposals would introduce a new unified league body and a 12-12 18 league structure, in addition to engineering a redistribution of revenue throughout the 42 professional clubs.
Approval from both the SPL and the SFL would be required to put the change into effect and 75% of SFL clubs would need to vote yes. With Rangers unable to vote, this would mean 22 of the remaining 29 SFL clubs would need to back the plan.