Scottish Premier League seeks £500,000 in legal costs from Rangers
Lord Nimmo Smith's investigation found the club's former operator guilty of breaching rules.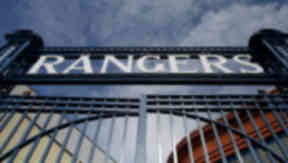 The Scottish Premier League has made a claim against Rangers for £500,000 in legal costs following its inquiry into undeclared player payments.
However the SPL would not say whether the costs are being pursued against Rangers' oldco, the newco or both parties.
An SPL spokesman told STV: "There has been a routine application for costs given that the case was successfully pursued by the SPL."
The commission, chaired by Lord Nimmo Smith, was set up to investigate rule breaches by the club between 2000 and 2011 relating to their failure to disclose payments made to players for playing activities, as is required under SPL regulations.
The inquiry focused on payments made by RFC 2012 plc ("oldco"), which is now in liquidation. Rangers' assets, including Ibrox, Murray Park and its membership of the Scottish FA, were bought by Charles Green's new company ("newco"), which trades as The Rangers Football Club Limited.
The newco was represented during the case but, in the verdict, it was stated that "...there is no allegation that the current owner and operator of the club, The Rangers Football Club Limited (Newco), contravened the SPL Rules or could be held responsible for any breach by Oldco."
The newco agreed as part of a five-way agreement with the oldco, SPL, Scottish Football League and Scottish FA that it would pay all outstanding debt to clubs from transfers undertaken by the oldco. STV understands there was no provision in the agreement for any other football debt to be honoured by the newco.
Lord Nimmo Smith fined the oldco £250,000 when it delivered its verdict on February 28 but did not strip Rangers of five SPL titles because no sporting advantage was gained.
A claim against the oldco is unlikely to recoup any money for the SPL with the company in liquidation.
A Rangers spokeswoman said: "This matter has been dragged out long enough and we had thought Lord Nimmo Smith's verdict would have been an end to it. Attempting to stretch it out even further does nothing to help the image of a game torn by dissension and engulfed in turmoil.
"It is important to remember that Lord Nimmo Smith apportioned no blame against Rangers FC and thus no sanctions were imposed on this club. It is inconceivable, therefore, as well as ridiculous that the SPL should even think about pursuing this club for costs against what was widely regarded as an ill-conceived and unwise course of action by them in the first place."