Francisco Sandaza sacked by Rangers over 'fake agent' prank call
The Spaniard was caught out by a prankster who duped him into discussing potential offers.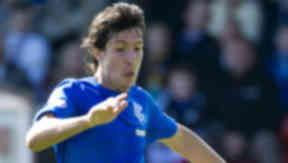 Rangers have sacked striker Francisco Sandaza after he was caught out by a hoax phone call.
The Spaniard was duped into believing he was talking to an American-based agent in a telephone call last month and encouraged the caller to alert him to any potential offer from a Major League Soccer club.
In reality, Sandaza was speaking to a Glasgow prankster who was broadcasting the phone call live on the internet.
Rangers launched an internal investigation on March 22 and suspended the player, saying they regarded it as "an extremely serious issue".
A spokesman said: "The player was suspended but after careful consideration and a hearing with Francisco and his representatives, the club and our advisors, believe that dismissal is the appropriate course of action."
The 28-year-old joined Rangers at the start of the season on a free transfer, having left St Johnstone at the end of his contract.
Sandaza scored 18 goals in 34 appearances with the Perth club last campaign, but has managed just two in 18 games for his new side in a season plagued with injury and poor form.
He first came to Scotland to sign for Dundee United in 2008, scoring 11 goals in a two-season spell before spending a year with Brighton and Hove Albion.
Sandaza has the right to appeal against his sacking under Scottish Football League rules.
He will not be able to join another Scottish club on a professional basis until the summer transfer window opens, with the deadline for signings in the 2012/13 season in both the SPL and SFL having elapsed.
The Spaniard is the fourth member of staff to leave Ibrox in the last three weeks, following reserve coach Tommy Wilson, physio Pip Yeates and chief scout Neil Murray.