Football Talk: Craig Whyte says he still owns Rangers, Goncalves is a diver
Containing revelations so head spinning you'll need to take a day off work after reading them.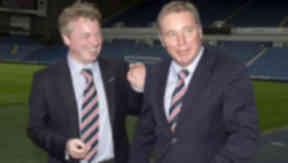 You get out of bed in the morning. You get ready for work.
You go to work. You sit down. Craig Whyte says he was behind Sevco 5088 and still owns Rangers. You anticipate a normal Friday.
The pub is calling you at 5pm. You relax with your friends. You have a nice weekend.
Something seems out of the ordinary there. Pub? Getting out of bed? Ah.
Props to the Scottish Sun for their revelation that Craig Whyte, of Rangers oldco destroying infamy, is claiming he was behind Sevco 5088, the company which purchased the assets of the club when a CVA was rejected by creditors.
Whyte says he has recordings of meetings with Charles Green, who he claims did the dirty on him by moving the assets again to another Sevco, this one Sevco Scotland Limited, and cutting him out of the loop.
Green's given a typically robust rebuttal of the claims in the same newspaper. Who is telling the truth? Will this end up in court? Will Whyte be back in Ibrox. Will Football Talk make it to the pub by 5pm?
The headlines in Scottish football today.
Green played up front... for me
Craig Whyte claims he was behind Sevco's Rangers takeover. (Sun)
Green: I shafted Whyte to get Gers
The current chief executive says he rejects any "opportunist" claims by Whyte. (Sun)
Neil Lennon will 'vigorously defend' against Scottish FA swearing charge
The Celtic boss says he is hopeful of being cleared of using foul language towards Jim Goodwin.
Saints star: They are only doing it because it's Neil Lennon
Jim Goodwin has branded SFA chiefs pathetic over their treatment of Neil Lennon. (Sun)
Dunfermline owner Gavin Masterton hands over his shares to administrators
The owner has given his shares in the club to administrators BDO.
Esmael Goncalves given two-match ban after admitting diving to win penalty
The St Mirren forward has accepted a suspension from the Scottish FA's compliance officer.
St Johnstone boss says Terry Butcher is his manager of the year
The McDiarmid Park boss says the Englishman has done a 'miraculous' job.
Kris Boyd says helping Kilmarnock reach the top six is his sole focus
The striker grabbed his first goal since returning to the SPL against St Mirren.
Rangers told to pay legal bills for five former players who refused to transfer to the new team when the old club went bust
A panel has ruled the Ibrox club must pay the expenses of five former stars who refused to transfer over when the old company went into liquidation last year. (Record)
A quality read for your Friday.
Why have Celtic, Rangers and Hearts taken to scouting online?
Stewart Fisher takes a look at Wyscout, the online scouting tool used by the world's biggest clubs. (Herald)
File under bonkers.
Former Aberdeen director Dave Cormack proposes amalagamating teams, and creating a roaming "Club Ecosse" side.
Us neither.
Injury updates brought to you by Twitter.
For those askin about my injury, I got the all clear from MRI yesterday so hoping to be back very soon.

— Kris Commons (@kcommons15) April 5, 2013
There's only two Michael Grays.
BBC Radio Five Live call up Michael Gray to discuss Sunderland's sacking of Martin O'Neill. They wanted the man who'd made over 300 appearances for the Black Cats. They got a Scottish student.
Full story in Michael (not that one) Gray's blog
Audio of the interview:
A free-kick from Neymar. Watch, marvel, share.