Charles Green defends 'Paki' remark but would punish players for it
The Rangers chief executive, speaking exclusively to STV, says he would not use the term in public.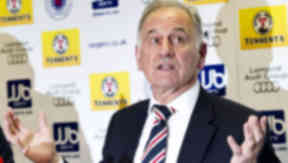 Charles Green has defended his use of the term "my Paki friend" towards Rangers director Imran Ahmad but says he would take a hard line against any player who used racist language.
The Ibrox chief executive told the Sun on Sunday he used the language when in the company of Ahmad.
Anti-racism charity Show Racism the Red Card has since moved to condemn those remarks, saying they were "ill-advised" and that the term used is "highly offensive".
Green responded in a statement that the organisation's response had been a "kneejerk reaction" and that they had taken his comments "out of context".
In an interview with STV on Monday, the businessman played down his use of the term. Green however stated he wouldn't accept such remarks being made by any other Rangers employee.
"The point I made when I was being interviewed the other day was about my relationship with Imran, and his relationship with me where he calls me a Yorkshire so-and-so," he said.
When asked if his remarks were normal language for someone at Rangers, Green replied: "No it's not normal language. It's not normal language for me."
Pressed further on whether such actions would be accepted from a member Ally McCoist's squad, he replied: "Would I accept it from a player? In terms of being said in a friendly way or a disparaging way?
"I only use it with Imran. I don't use it in the public domain.
"No it would be inappropriate. He would subject to an investigation or if there was a complaint. Imran hasn't complained."
Green went on to state the shareholders in Rangers had the power to remove him from his position if they felt his conduct was unacceptable.
He said: "I have said many, many times. There will be a shareholders meeting in August. If the board don't like what I am doing, if the shareholders don't like what I'm doing they'll have a vote and I'll be gone.
"I'll be down the road and that's fine. There won't be any tears in my eyes other than the tear of leaving Rangers. If I can't deliver, if I don't perform, I should be sacked.
"That's what I believe is right for the chief executive and that's the same set of rules for every employee.
"I don't have a rule for Charles Green. If in August the board are unhappy with my outward comments or unhappy with things Charles Green said that were inappropriate, they will terminate my contract, or the shareholders will vote against me being re-elected as a director."
Asked if he had done anything during his time at the club he was ashamed of, Green replied: "Nothing at all. Nothing at all".
More to come from STV's interview with Charles Green on the STV Sport website and on the STV News at Six.