Charles Green challenged on Manchester United and Dallas Cowboys claims
The latest from the Rangers chief executive's exclusive chat to STV's Peter Smith.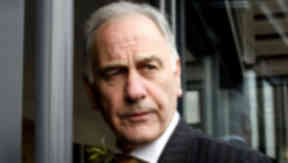 In the latest from STV's exclusive interview with Charles Green, the Rangers chief executive is challenged on claims made to supporters since taking over at the club last year.
Specifically the businessman is asked to back up claims he had spoken to Manchester United, who he claimed said they were supportive of the Ibrox side playing in the English Premier League.
Manchester United, via a spokesperson, subsequently denied giving their backing.
Green is also challenged on an alleged tie-in with NFL side Dallas Cowboys.
The club's commercial director, Imran Ahmad, said a deal between the two was in the offing when he met Rangers supporters in a tour of North America in September.
However, a spokesman for the US team told STV News on Tuesday evening: "We are not aware of any talks between the Dallas Cowboys and Glasgow Rangers regarding a link up."
The following is a direct transcript from Peter Smith's interview with Charles Green.
PS: Have you ever misled the supporters by telling them what they want to hear?
CG: Never
PS: Never?
CG: Never
PS: You are clear about that?
CG: Yes
PS: What about when you said Manchester United were in favour of Rangers moving to the Premiership? They've clearly stated they were against it.
CG: The spokesman did.
PS: So you told Rangers fans Man Utd were supportive of Rangers moving to the English Premiership. Manchester United say they are opposed to it.
CG: So Sir Alex Ferguson wouldn't like to see Rangers in his league? Who is Manchester United? You define Manchester United.
PS: Who at Manchester United told you that you were wanted in the Premiership?
CG: I've had discussions with a number of clubs.
PS: Who at Manchester United told you that you were wanted in the Premiership?
CG: Well… why do we want to know that?
PS: I think there is evidence here that has been contradicted by Manchester United.
CG: It's been contradicted by a spokesperson from Manchester United.
PS: So is that spokesman not speaking for the club?
CG: My lawyers, who are advising on Rangers going into the UK, have been speaking to a number of clubs, representatives of clubs, to owners of clubs.
I am absolutely very, very clear, from the discussions I've had with various people who are speaking to football clubs who would welcome Rangers to play in the English football league.
PS: Can you tell us which clubs?
CG: No. I don't want to prejudice this club's chance of playing in England by disclosing stuff prematurely.
PS: What about when Imran Ahmad told Rangers supporters talks with the Dallas Cowboys were going well?
CG: Well they are. I've got an email now if you want to read it after this interview from Dallas Cowboys.
PS: The Dallas Cowboys have previously told us there were no such talks.
CG: I don't care, Peter, what they've said. I've just told you categorically, in front of the camera, when this interview finishes, I will show you an email where we are invited to go to Dallas Cowboys. The email came in three days ago.
So either believe me or not. If you don't believe me, you're entitled. But I'll show you and then I want you, separately, to apologise on camera to say you were wrong about Dallas Cowboys, OK?
So far, STV has not been shown the email from the Dallas Cowboys.