Rangers' Ian Black accused of betting against own team by Scottish FA
The midfielder is accused of gambling on results between 2006 and 2013.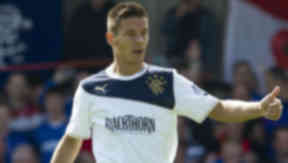 Rangers midfielder Ian Black has been accused of betting against his own club on three occasions by the Scottish Football Association.
The former Inverness CT and Hearts man is accused of putting money on his team to not win matches between March 4, 2006 and July 28, 2013.
Black is also accused of betting on a further ten games in which the club he was playing for were involved in, as well as betting on a further 147 games not involving his team.
The Scottish FA have stated that there is no evidence to suggest the player acted in a manner or influenced proceedings during a game which led to him making money.
STV understands the most recent match Black bet upon was Rangers' tie with Albion Rovers in the Ramsdens Cup on July 28, 2013. Rangers won the game 4-0.
It is also understood that the player's actions came to light through his use of a Ladbrokes phone account.
The player will be asked to attend a hearing at Hampden on Thursday, September 12. He has until Monday, August 26 to provide evidence to the governing body.
Footballers registered in Scotland are prohibited by the Scottish FA from betting on any football match.
If found guilty, players can be fined from £500 to £1,000,000 and can be either suspended or expelled from playing professional football.
They are also not allowed to "behave in a manner, during or in connection with a match in which the party has participated or has any influence, either direct or indirect, which could give rise to an event in which they or any third party benefits financially through betting".
The Scottish FA however have made clear there is "no evidence" to suggest Black has breached the second rule.
A Rangers spokesperson said: "The club is aware of the SFA's notice of complaint and are currently investigating the matter."