Ally McCoist defends high salary and says wage cut not linked to accounts
The Rangers boss has taken a 50% cut to his £825,000 yearly wage at Ibrox.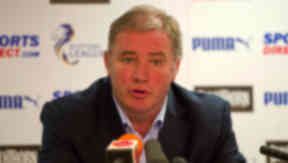 Ally McCoist believes his extra work on top of his role as Rangers manager goes some way to justifying his salary before accepting a near 50% wage cut at the club.
The Ibrox boss has agreed reduced terms this week, coinciding with the release of club accounts which showed an operating loss of £14.4m over the 13 months until June this year.
McCoist says his £825,000 annual salary was the decision of the then-Rangers board and wasn't negotiated up by him but admits circumstances dictate a drop was inevitable.
"The only thing I ever wanted was an opportunity to manage the club," he said. "There was a contract put down which I can tell you in all honesty was not negotiated at all.
"The finances were not important and that's the truth - we just wanted an opportunity to manage the football club.
"I signed the contract and we could not foresee what was going to happen in the next 18 months, two years, which was obviously a massive blow to the club. We are where we are at the moment.
"Looking at where we are as a club and as a football team, I do firmly believe that the manager's job is roughly the same, if not greater in terms of the amount of work to do.
"My own personal job has been totally different from most Rangers managers, in the respect that we've been dealing with business problems, administration, going down to London and doing a lot of work for the IPO.
"It's been a little different and harder to gauge than most managers who, like myself, just want to concentrate totally on football.
"I would like to point out that my decision to take a wage cut has nothing to do with the accounts.
"The negotiations started well before the accounts came out."
The club's wage bill was shown in accounts to stand at £7.8m but McCoist insists the next set will show a drop in player payouts.
"The wages are down by a substantial amount this year for the next set of accounts, which will please a lot of people and understandably so," he said.
"I personally think we have managed it reasonably well.
"I won't get carried away and say we've done great but we've managed to change the personnel, we've brought in eight or nine new faces and I think nine or 10 went the other way.
"I can understand the argument 'should the wage bill be that high to win the division?' Probably not.
"But, at the same time, we are fortunate enough to have 37,000 season ticket holders who, without doubt, deserve to see the best level of football that we can give them on that park.
"My argument would be that our wage structure should be higher in terms of the product that we want to give our season ticket holders."