Whittaker happy to be put on the spot
Steven Whittaker says he wants to continue taking Rangers' penalties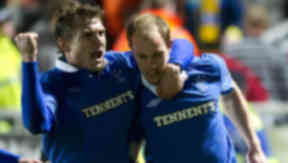 Steven Whittaker has said that he wants to remain Rangers' penalty taker despite missing the one of the three spot kicks he took against Dundee United on Tuesday evening.
Whittaker was successful with the first two penalties he took in the 4-0 win at Tannadice but blazed his third over the bar. He said that having now missed from twelve yards there may be others in the squad who would want to take the responsibility.
"There is a queue and I had to fight off about four people to hit the third one," Whittaker revealed.
"I've hit pressure penalties this season and I would be happy to hit one again.
"At the moment I'm the taker but, now that I've missed one, someone else might step up. But I'm still happy to hit them.
The versatile player said that he was disappointed to have missed out on the first hat-trick of his career.
"I've always mixed my penalties up," Whittaker added. "When I first got on them, I hit a couple hard and then I placed a couple. I think it was a case of too many in the one game!
"The first two I placed and then I tried to go for power and just got it wrong. I've never scored a hat-trick so that would have been my first."
Whittaker's spot kick opportunities came as referee Willie Collum sent off three United players. The Rangers player admitted it had made for an unusual game and one unlike anything he had experienced before.
"I don't think I've played in a game like that, not that I can think of off the top of my head," he said.
"Obviously it's difficult for them to take but a lot of the challenges were last men and the rules now are that you need to go.
"I was quite far away to be honest so I would need to see them again but I thought the referee did okay."