Ally McCoist content to avoid Premiership sides in Scottish Cup draw
The Scottish League One leaders will take on Falkirk in round four.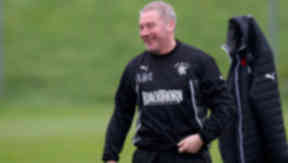 Rangers manager Ally McCoist says he's content to avoid Premiership sides in the fourth round of the Scottish Cup after being paired with Championship side Falkirk.
The Ibrox side beat the Bairns twice in cup contests last term but were beaten 3-2 in the League Cup back in September 2011.
Despite feeling his team would be ready to face opposition from Scotland's top flight McCoist says he wasn't desperate to draw one of the country's top sides.
He said: "No not at all, I would have taken home games against lower league opposition all the way.
"It is safe to say the longer you go in the competition it would be the norm that you would expect to meet team from higher up in the top league.
"That will hopefully be the case if we manage to get through a difficult tie away to Falkirk. They beat us 3-2 [in 2011] so we know how difficult it is going to be. We feel we are in better shape than last year.
"The one thing you hope for is a home draw and we didn't get that."