Whyte completes Rangers takeover
The businessman has bought Murray International Holdings' 85 per cent stake in the club.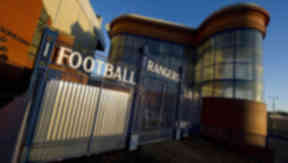 Craig Whyte has informed the Stock Exchange that he has concluded his purchase of Murray International Holdings' majority shareholding in Rangers Football Club.
The Scottish businessman, who has been in takeover talks since November, has notified the Stock Exchange of the purchase of an 85 per cent stake in the club at an asking price of £1.
Whyte is believed to be ready to put £10 million into Rangers immediately as working capital, allowing Ally McCoist to plan for next season. 
A deal was expected on Thursday evening but a late hitch delayed its completion, as lawyers from both camps convened in Edinburgh.
Both Murray and the Lloyds Banking Group had already given their approval to the deal but the sub-committee of Rangers' board set up to ratify the deal had raised concerns over long-term funding and investment in the first team squad.
Whyte reached an agreement with Lloyds several weeks ago over the repayment of the club's £21 million bank debt.
It is understood £17 million will be paid up front to Lloyds, with a £4 million loan on Ibrox's Albion car park refinanced and paid back in instalments.
In a statement released by the Stock Exchange on Friday evening it was confirmed that Wavetower, a company owned by Whyte, had completed the purchase of MIH's shares.
The statement read: "Wavetower is pleased to announce that it has today acquired 92,842,388 ordinary shares, representing approximately 85.3 per cent. of the issued share capital in The Rangers Football Club P.L.C. (the "Club"), for a consideration of £1.
"Wavetower acquired its interest in the Club (the "Acquisition") from Murray MHL Limited. The Acquisition would ordinarily have required Wavetower to make a general offer in cash under Rule 9 of the Takeover Code to all other shareholders in the Club but, as the consideration paid by Wavetower for the shares acquired is £1, the Takeover Panel has granted Wavetower a dispensation from making such an offer.
"Wavetower intends to post a circular to the Club's shareholders by 16 May 2011 containing background information on Wavetower and other relevant information. Wavetower intends to maintain the Club's listing on PLUS Markets for a minimum of 12 months from the date of this announcement.
"Wavetower is 100% owned by Liberty Capital, a company which is ultimately owned by Craig Whyte. Craig is a lifelong Rangers supporter and is very much looking forward to guiding and assisting Rangers in its development over the coming years. "
Statements are expected from both Murray International Holdings and Rangers on Friday evening.