Whyte thanks Murray and promises 'a great future' for Rangers
Rangers' new owner has issued a statement saying he will do all he can to ensure success.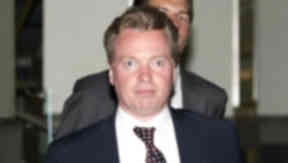 Craig Whyte has issued a statement confirming his purchase of a majority shareholding in Rangers and promises to do everything he can to bring domestic and European success to the club.
The businessman completed his acquisition of Murray International Holding's shares in the Ibrox club on Friday afternoon after protracted negotiations and said he was happy to have finally taken control of Rangers.
"After six months of negotiations, I am delighted to confirm that agreement has been reached between myself and Sir David Murray and that Wavetower now holds the controlling interest in Rangers,' he said in a statement.
"As a keen Rangers supporter I now look forward to helping the club secure its future as a leading force in Scottish and European football."
Whyte said that he would be working to deliver success for the team and acknowledged that the lengthy takeover process had been difficult for those involved in the club.
"I know the club has gone through some difficult spells in recent times but it is my commitment to the manager, his backroom team, the players and, most importantly, the loyal supporters that I will do all I can to ensure further success in the weeks, months and years to come," he added.
"Rangers is a great club with a great future. It has the best supporters in the world and I will do everything possible to protect and enhance the club's standing going forward.
"The guiding principle from the outset has been to get the right deal for Rangers. I know the time this has taken has created a lot of frustration, but it was vital we secured a deal that meant we could maximise investment in the team and that is what has been achieved."
The new owner also paid tribute to Sir David Murray and said he should be shown gratitude for his 23 years at Ibrox.
"I would like to personally thank Sir David Murray for the way in which he has conducted his side of this difficult and complex negotiation as well for the devoted service he has given to Rangers over many years," Whyte said. "His is a great legacy of which he can be proud."
He added: 'Now the really hard work begins and I would appeal to everyone who has the best interests of Rangers at heart – the management, the players and the fans – to give the club the support it so richly deserves.'
RANGERS TAKEOVER LATEST