'Lack of clarity' from Rangers owner over funding for potential tax bill
The sub-committee set up to oversee Craig Whyte's takeover say they are concerned over how he would pay any penalties from HMRC.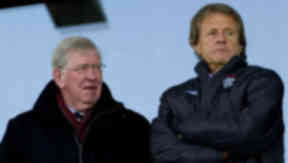 The sub-committee of Rangers' board set up to oversee Craig Whyte's takeover say they still have concerns over the businessman's ability to meet**** possible financial sanctions from HM Revenue and Customs.
Whyte completed the purchase of 85 per cent of Rangers' shares on Friday night, ending a protracted deal to buy the club which had dragged on since November.
The panel, who had no legal power to block a takeover but contributed to a delay as they sought greater clarification from Whyte over his proposals for future investment in the club, have spoken out just hours after the takeover deal was confirmed.
The statement read: "Further to today's statement from Wavetower Limited ("the acquirer"), the Independent Board Committee of The Rangers Football Club plc ("the club"), comprising Alastair Johnston, Martin Bain, John Greig, John McClelland and Donald McIntyre, (''IBC'') would like to make the following statement:
"In recent weeks the IBC has been engaged with the acquirer and has secured an enhanced financial commitment from Wavetower for future investment into the club. The decision on the sale and purchase of the majority shareholding in the club firmly and ultimately rests between Murray MHL Limited ("MHL") and Lloyds Banking Group ("LBG").
"Although the IBC has no power to block the transaction, following its enquiries, the IBC and Wavetower have differing views on the future revenue generation and cash requirements of the club and the IBC is concerned about a lack of clarity on how future cash requirements would be met, particularly any liability arising from the outstanding HMRC case.
"Wavetower is purchasing MHL's 85% shareholding in the club for £1 and the club's indebtedness with LBG is to be assigned to Wavetower. This share transaction would ordinarily trigger a requirement on Wavetower under Rule Nine of The Takeover Code for a mandatory offer to be made to the other shareholders.
"Given this transaction structure and following discussions with the Takeover Panel, the IBC considers there to be no purpose in the acquirer making such an offer to acquire all other shareholdings at effectively nil value per share. Accordingly the IBC has agreed that the offer period for the club will now end.
"In agreeing that no offer should be made to all shareholders the IBC has insisted that the acquirer issues a document to all shareholders setting out the full terms of the transaction, comprehensive details on the acquirer and the sources of its funding and giving firm commitments to agreed future investment in the club.
"The IBC is committed to ensure that the transaction and future investment and funding proposals should be transparent to all the shareholders and supporters of the club."
RANGERS TAKEOVER LATEST