'Rangers can't expect to get top players for little money', say Anderlecht
STV understands the two clubs stand one million euros apart in their valuation of Roland Juhasz.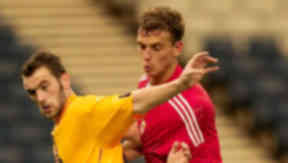 Anderlecht say Rangers can't expect to sign one of their best players on the cheap, having rejected the Glasgow club's third transfer offer for Roland Juhasz.
After negotiations on Monday, the Belgian side turned down Rangers' latest bid, which STV understands stood in the region of three million euros (£2,620,000).
Anderlecht though have stood firm in requesting four million euros (£3,493,000) for the 28-year-old, who signed a new contract last year to keep him at the club until 2014.
No further talks have taken place on Tuesday to revive the transfer deal and, following Rangers' failed attempt, Anderlecht made their position over the defender clear to STV.
"Our position is simple," a spokesperson outlined. "They [Rangers] didn't meet the price we set.
"You can't have top players for little money. At this moment, the deal is dead.
"It's a quite simple equation regarding the price. There is a price we have set which Rangers have not matched."
After the collapse of the deal on Monday night, Juhasz's agent Vladan Filipovic launched an attack on Anderlecht's board of directors and accused of them of going back on their word to let the defender leave.
"We are very disappointed in the management at Anderlecht, including Herman van Holsbeeck [general manager]," Filipovic told nemzetisport.hu. "I know in football anything can happen but I did not expect this.
"When Roland extended his contract a year ago, Anderlecht agreed verbally they would sell him if a certain offer came in. Unfortunately this was not given in writing, but we trusted them.
"Rangers have offered this amount now but Anderlecht have said no. I understand they do not want to lose Roland, it is understandable, but a year ago they promised he could leave for an appropriate offer."
IN DETAIL