Rangers fined £160,000 and hit with player registration ban by SFA
The Scottish Football Association released the findings of an independent inquiry into the Ibrox club on Monday night.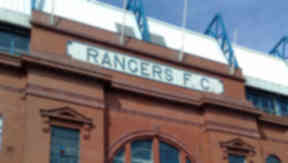 Rangers have been fined £160,000 and banned from registering players for 12 months by the Scottish Football Association ****after an independent inquiry into the club.
On Monday night the Scottish FA also confirmed it had fined Rangers owner Craig Whyte and banned him from "any participation" in Scottish football for life.
Rangers were hit with the fine and player registration embargo after the SFA's independent judicial panel led by Lord Nimmo Smith found the club had brought the game into disrepute.
The SFA said the Ibrox club had been hit with the maximum £50,000 fine for going into administration, or "experiencing an insolvency event". It was also fined £10,000 for breaching the body's rules and the remaining £100,000 of the fine was in relation to breaching rule 66 by bringing the game into disrepute.
Owner Mr Whyte was fined a total of £200,000 for bringing the game into disrepute and for three counts of failing to follow the directions of the judicial panel.
The SFA tribunal imposed a sanction "prohibiting Rangers FC for a period of 12 months from the date of determination from seeking registration with the Scottish FA of any player not currently with the club, excluding any player under the age of 18 years."
If Rangers were to exit administration through an asset sale followed by liquidation of the existing company - known as the 'newco' route - current players would be able to play for the newco should it be given the club's SFA membership.
Rangers were censured by the panel for breaching rule 71 by being a club not acting "in the best interests of association football" and not acting "in any manner which is improper" while the club was also censured for failing to pay Dundee United £35,000 revenue from a Scottish Cup match on February 5. The money was eventually diverted to the Tayside club by the SFA.
This punishment comes after the club was automatically deducted ten points by the Scottish Premier League when they appointed Duff and Phelps as administrators on February 14.
IN DETAIL