Dave King set for Rangers EGM victory as chairman David Somers resigns
Chair of Rangers International Football Club plc's departure is confirmed to the stock exchange.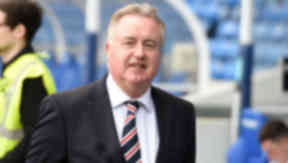 David Somers has quit as chairman of Rangers, signalling a likely victory for Dave King and his prospective new board.
Somers' departure was confirmed to the stock exchange on Monday morning, bringing his 16-month tenure to an end.
The 66-year-old faced the prospect of being removed from his post at a general meeting of Rangers International Football Club plc's shareholders on Friday.
Somers was to face a motion for him to be voted off the company's board, along with chief executive Derek Llambias and finance director Barry Leach.
In a statement confirming his departure, Somers said: "When I was approached about the chairmanship of Rangers, friends warned me that the world of football has different rules and codes of behaviour. I now know that is a gross understatement.
"I am a non-confrontational man and have always tried to bring harmony to boardrooms and with stakeholders.
"At the risk of antagonising my army of critics I would point out that Rangers managed to pay its bills and avoid going under during my tenure. These critics might not agree with how we achieved this.
"I look forward to alternative solutions from whoever is running the club in the future.
"Despite the personal attacks on me from various sources I genuinely wish the club the very best in the future and I am confident that with such a passionate and vociferous fan base they will be restored to their former glories."
Somers has also relinquished his directorship with The Rangers Football Club limited, a subsidiary of the company of which he was chairman.
Non-executive director James Easdale, who also faced being removed, stood down on Wednesday from both boards.
Somers' exit is the clearest indication yet that King, Paul Murray and John Gilligan have secured over 50% of the necessary support from shareholders to see them appointed to the board in the quartet's place.
That move could be ratified before Friday's meeting, with the deadline for proxy votes falling on Wednesday.
STV had projected the vote in favour of the requisitioners to stand at just under 47% but the group privately believe they have already surpassed that total.
King still faces questions over his suitability to be a director of an publicly-listed company, following his convictions in South Africa on 41 counts of breaching the country's Income Tax Act.
The businessman has previously stated the fact he is able to serve as a director in South Africa without impediment is a clear indication he will be able to do the same in the United Kingdom.
King and Murray both will also face questions from the Scottish Football Association over their suitability under the governing body's fit and proper person guidelines.
Both men were involved with Rangers in the lead-up to its slump into liquidation in 2012, which will lead to scrutiny from the Scottish FA's board.
King will also be challenged on his tax convictions before a decision is reached on whether he can serve as an official at the club.
The future of the aforementioned Leach and Llambias, Mike Ashley's allies on the Rangers board, ahead of Friday's meeting is unknown.
Should they be removed, the Sports Direct owner retains the right to appoint two directors to the board under the terms of a loan arrangement to the club, paving the way for both men to be reappointed in the near future.